Welcome to Patrice Monahan!
Patrice is a multi-talented performer including:
Jazz Vocalist - Pianist, Percussive Tap Dancer, Educator - Music as Therapy.
Versatile Boston based Patrice Monahan has been performing, composing, arranging, directing, coaching and teaching piano, voice and tap dance for over 20 years.
 "Please don't ask me to pick just one." 
Her roots are in the simplicity of folk music and its storytelling, the love of the script, dance and lyric through her extensive work in film acting, musical theater and cabaret. 
  
She loves the element of improvisational surprise. Patrice's musicians are of "the best." 
The audience can't help but feel the excitement and pull of the tight ensemble performances. It is the ease of swing in her vocal dance and her clear melodic and lyric connections that make her performances so captivating. 
Recent Reviews and Articles:
"Meet Patrice Monahan of Patrice Monahan Music in West Roxbury," Posted May 30 2017, [Read Article]
"West Roxbury / Norwood mother-daughter team tap up a storm," By Julie M. Cohen, Wicked Local West Roxbury/Roslindale.
Posted May 16, 2017, [Read review]
2017 Jamaica Plain Porchfest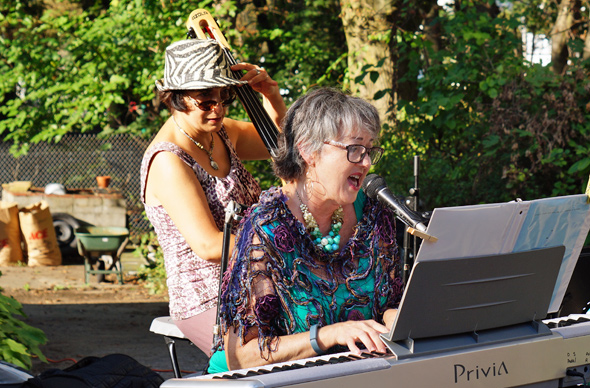 Patrice and Tal enjoy neighborhood performance
UniversalHub by adamg on 09/16/2017
Recent Performance: (10/2015)
 
Gypsy Spirit - RapAtaPtaP "And All That" with Eve Agush